There are two pieces of paperwork associated with the survey method.
The site diagram is a sketch or labelled aerial photo that identifies the location of all the transects that have been established at a site.
The survey sheet is the sheet that is used to record data during the survey of a transect.
Site diagram
For each site, sketch a diagram or label an aerial photo to indicate the location and direction of each transect established at the site.
The site diagram only needs to be completed when a new site is established, or when a new transect is added to an existing site.
Give the completed site diagram to your group's data administrator and they will scan or photograph it and upload it to the Coastal Monitoring Database.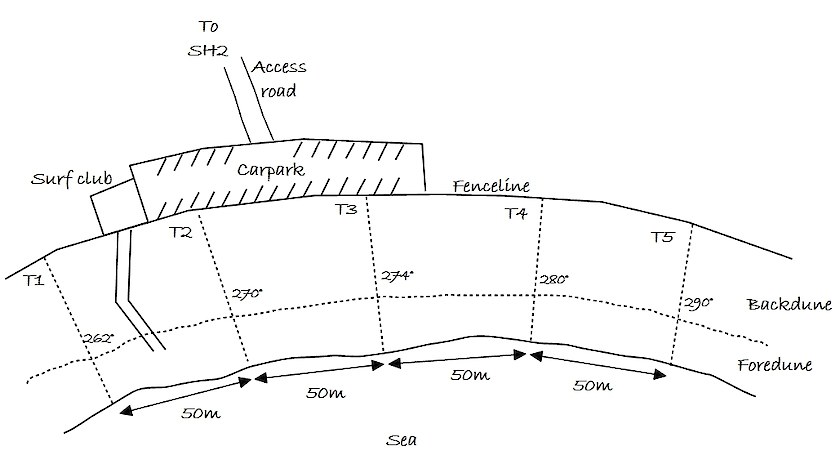 An example of a site diagram.
Survey sheet
The survey sheet is used for recording the data for each survey of a transect. This Coastal Monitoring Database provides print-ready survey sheets here.
New transects: when establishing a new transect at a site the print-ready sheet is generalised for the site, and most transect information is blank and will need to be filled out during the first survey of the transect. 200 points are allowed for on the sheet, which should be sufficient for any new transect.
Existing transects: for re-surveying of existing transects the print-ready sheet will already contain the key transect information like start point location, transect bearing and point spacing. The number of points on the sheet is 10 more than the previous survey, in case the transect will be extended.
The field data sheet allows recording of the following transect information:
Location name
Site name
Transect name
GPS landward datum (of the start point)
Bearing (of the transect from the start point)
Description of start point location
Description of photopoint location
Point spacing
Date
Survey participants
And for each sample point in the transect:
Distance along transect
Touching species (highest plant intercept with the sampling rod)
Top species (highest plant within a 30cm diameter column of the rod)
Height of top species
Dune angle at changes in slope
Dune location (fore-dune, mid-dune or back-dune)
Comments
After a survey has been completed, give the survey sheets to your group's data administrator and they will enter the survey data into the Coastal Monitoring Database.